Scottish mountain motorcycle route ambassadors Rod and Brenda Mitchell are our guides for this famous Scottish mountain route
What's better to discuss this Scottish motorcycle route than one super knowledgeable road ambassador? Two! Meet husband and wife duo, Rod and Brenda Mitchell, who between them have clocked up over 70 years of experience on two wheels.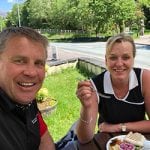 The pair are now part of the Borders Group of Advanced Motorcyclists (BGAM), a local IAM RoadSmart group based in the Scottish Borders. Over 150 members meet weekly for organised ride-outs and invite new members to complete advanced motorcycle training under the tutelage of expert riders who provide advice and guidance on a voluntary basis.
Rod and Brenda are big fans of the mountainous scenery that can be enjoyed along our breath-taking Scottish mountain road motorbike route. Here's why:
What motorcycle events / rides do you promote through BGAM?
BGAM is a fantastic biking community which organises a series of different rides throughout the year. We also meet every Sunday and explore a new route every week – these can be the most exhilarating rides, often checking out new biker cafes and riding on unfamiliar roads. We all have a favourite route which we'll never tire off, but it's always great discovering new hidden gems.
---
Why are you a fan of the LFDO Mountain Road?
Well, nobody can deny that the scenery is breathtakingly spectacular. The route tours right down through the middle of the steep sided Glencoe valley with peaks such as Buachaille Etive Mor and Bidean nam Bian on either side, and waterfalls drop down to the river running alongside the road. There is a mysterious eeriness all around and you start to imagine what it would have been like in 1692 during the Glencoe massacre, the area is just steeped in history. It's also a nice one because the route is made up of long straights and gently curving left and right bends as far as the eye can see. Proper Scottish motorbiking stuff!
---
Why is the Scottish West Coast a great part of the world to motorcycle in?
The west coast route is a fantastic part of the world to tour motorbikes in. The roads are generally quiet compared to the central belt but you will also find pockets of bustling activity, mostly at the ferry ports in Oban and Ullapool. The further north and west you go, the more remote the landscape becomes. The locals are all very friendly and operate on 'Highland time', which means everyone has time to stop and talk. Fellow bikers, cyclists and even the local police motorcyclists will be up for a chat and happy to provide advice and assistance on route choices and places to visit.
---

Why do you love the motorcycling routes?
We are so lucky to have some of the best motorcycling roads in the world. The routes are quiet and there are so many fantastic places which are easily accessible on a day trip.
The 'Argyll 190' is a bit of a hidden gem in that it has a bit of everything and is a very scenic ride.
The 'North East 250' explores everything that Scotland is famous for in one unique road trip. It takes you through the whisky distilleries of Speyside, the spectacular mountain passes of the Cairngorms National Park, the famous castles of Royal Deeside, the granite city of Aberdeen, the rugged North Sea coastline to the east and the picturesque seaside villages of the Moray Firth Coast.
The 'South-West 300' follows many miles of awesome coastline with an opportunity to marvel at the beautiful hills, glens, forests and lochs. The route is roughly circular so you can start wherever you please and spend as long as you like exploring the huge diversity of scenery and natural beauty on display along quiet roads.
The 'North-Coast 500' is more well-known now than these other routes and it has a little bit of everything to offer native Scottish bikers and tourists alike. It's memorable for lots of different reasons.
---
What hotspots do you recommend along the Mountain Road?
There are a number of interesting hotspots along the mountain route. Firstly, there is a single-track road which takes you along Glen Etive. This is where James Bond's SkyFall was filmed. You can tell the exact spot as the road is beautifully tarred for a stretch!
There are also quite a few lay-bys where you can stop, take photos and admire the scenery and mountainous landscape. The meeting of the Three Waters and the Glencoe waterfall are worth stopping for, but be careful when crossing the road.
---
What are your top tips to enjoy this Scottish mountain motorcycle route?
There are a number of long straights with a series of blind summits and busy lay-bys in the hollows. You need to plan overtakes carefully as vehicles will emerge looking right and not left. Plan for a smooth ride and make sure your road positioning is correct when entering and exiting the right and left-hand bends. Watch out for pedestrians crossing the road from lay-bys to take photos on the opposite side of the road.
---

Before setting out on a long ride, what should you prepare for?
Use the BETOPS system to check your motorbike is fit for purpose before setting off. Brakes, Electrics (lights, horn), Tyres, Operations (e.g. steering lock check), Petrol, Security (loose fittings / any baggage securely attached).
Always pack your waterproof trousers in your top box for a long ride because you just never know when the weather might turn, and you don't want to be caught out – especially in Scotland! It's good to always have a visor cleaning spray and a chamois with you as well as you'll certainly encounter plenty of beasties, especially in the summer months.
---
What are your top tips on how to overtake safely?
Don't be in a rush to overtake a long queue of traffic until it has settled down as there may be vehicles in the middle who are also thinking about overtaking, which pull out into your path.
Don't get too close to the vehicle you are overtaking. You have plenty of power, so maintain the two-second rule, do a quick life saver, then pull out and pass smoothly and safely.
Watch out for junctions and laybys as you won't want to be overtaking passing these.
---
What advice do you have for approaching left or right-hand bends?
The considerations when negotiating any bend should be the same. Gather information well in advance so you know how the road is shaping. Make sure you are positioned correctly when entering the bend (close to the nearside on a right-hand bend and just inside the white line for a left-hand bend) so that you have the best view you can around the bend. Check your speed, use your rear brake if necessary, and make sure you are in the correct gear before you enter into the bend so that you are in complete control and can accelerate away once it opens up. Always be prepared to alter position for safety. Happy motorbiking Scotland!
---
Is there any other safety advice as an experienced rider you would encourage others to adopt?
Always expect the unexpected and ride defensively. Anticipate potential hazards early and take the necessary steps to ensure they don't catch you out.
---
Have you ever completed motorbike safety courses or training?
Brenda has completed an 'advanced cornering techniques' course and is completing her advanced training with her advanced test in a few weeks' time. I've (Rod) completed and passed an IAM Advanced Motorcycle test.
---
If so, why do you recommend others to complete safety training courses?
We have always advocated that motorcyclists should consider advanced motorcycle training as it's a potential life saver. Motorcycle riding skills can be improved using the system of motorcycle control, IPSGA (information, position, speed, gear and acceleration), which is at the core of advanced riding. Its purpose is to promote safety and prevent collisions by encouraging riders to adopt a systematic approach to any hazard i.e. anything which contains an element of actual or potential danger. Advanced motorcyclists should be able to ride in a safe, smooth and efficient manner at all times on all routes.
Through good observation, sensible anticipation and accurate planning, combined with sound operation of their machine's controls, you should enjoy a comfortable, progressive ride while maintaining safety. The best motorcyclists never stop learning. Right now you can get expert tips for free here.
We are so lucky to have some of the best motorcycling roads in the world.