Steven Gourlay's Blog: Road to Skye
In his blog Steven Gourlay tells us about his motorcycling history and why he believes Skye is a great place to ride.
Can you tell us about your biking experience?
I first started riding motorcycles in Glasgow back in 2005 when I got my first 125cc bike, a lovely Honda Varadero, to commute to work. Since then, I have always owned a motorcycle and have gone through just about every phase of biking from the 125 Honda Varadero, to a Honda CBR 600FY – a comfy sports tourer – and then a 2005 Kawasaki ZX10R – an absolute beast of RAW power. However, since moving up north and riding more and more on single-track roads, I decided sports bikes might not work for the type of riding I was doing.
After moving up to the Highlands, I started working for a company which designs and manufactures waterproof tough smartphone cases and mounts for use on motorcycles. This focus on motorcycles in my job led to more riding for both work and pleasure.
I changed to a KTM 990 SM which, in my mind, is probably the most fun road bike for the Highlands. It has great low-down power and is easily flickable, making it great fun on twisty roads.
After a few years, I upgraded to the KTM 1290 SDR which was a great bike but, being such a powerful engine, it was often difficult to sit at 60mph. So, despite it being a great fun bike, being constantly on the brakes was not too enjoyable.
Now I'm on a Yamaha Tenere T7, which has opened up a whole new chapter of riding on- and off-road. There's a lot of fun to be had riding at a slower pace off-road, just a shame there are very few places in Scotland you can do it.
I am now joint Director and Owner of the company which involves riding all year round, doing product testing in the extreme Highland weather. I like to drag some friends along with me, a good group of riders from Inverness called The Weekend Warriors.
Why is Skye a great place to ride?
Skye is such a breath-taking place. Whether you're coming from the north down the west coast via Torridon or from the south up through Glencoe, the ride getting to Skye is fantastic and, once you arrive, it's even better.
After you fuel up at Kyle of Lochalsh and head over the Skye bridge, you slowly start to feel you're in God's country, such stunning scenery compacted into such a small area.
On a trip through Skye, I often head up through Broadford to Sligachan, where you're surrounded by mountains on all sides, before going up to the north-east side of the island. That ride up to Portree just feels special.
Leaving Portree it starts to feel more remote and, in my experience, the wind can really start to blow you about as you head further north towards the Kilt Rock and Mealt Falls.
Then you reach my favourite place in Skye – the Quiraing. As a photographer, I  really appreciate this area for its rugged landscape where the light hitting the land can leave you speechless.
Why do you love biking in Scotland?
The best part about biking in Scotland is following the roads through stunning scenery. There are some fantastic roads all over the country and you often never want them to end. Due to the unpredictable weather, it can be difficult to plan a good time to go but, when you are able to catch a blue sky day, it is unreal.
From living In Ullapool, my favourite routes are the NC500 (well before it was called the NC500) and then down to the Isle of Skye, Glencoe, Pitlochry, Glenshee, Braemar and back over the Dava into Inverness. Linking these routes together can lead to a cracking adventure which is right on our doorstep.
What are your top tips to enjoy biking?
A big part about why I enjoy biking is exploring and seeing something new. I use the Calimoto app on my phone to show the roads I've ridden and then look for new routes to fill in the gaps.
Give yourself time to enjoy your riding, but also don't be scared to increase the miles / hours you cover on the saddle. Just be sure to build up gradually as you don't want to mentally or physically hit the wall when you have a lot of miles to get home.
Once you are confident riding on your own, then I'd highly recommend finding some like-minded riders to go out with, as biking is a great social activity. Just be sure to continue to ride at your own limits, and not anyone else's.
For new riders, going out and getting lost on the roads can be a great way to find new places; however, it can be stressful if you can't find your way back. It is likely that you are going to be taking your mobile phone anyway and this can easily be connected to a Bluetooth headset to help you navigate. There are many map-based apps which you can use to take the stress out of finding your way back home, allowing you to concentrate fully on the road. Just remember to keep it charged, not just for maps, but in case you have an accident.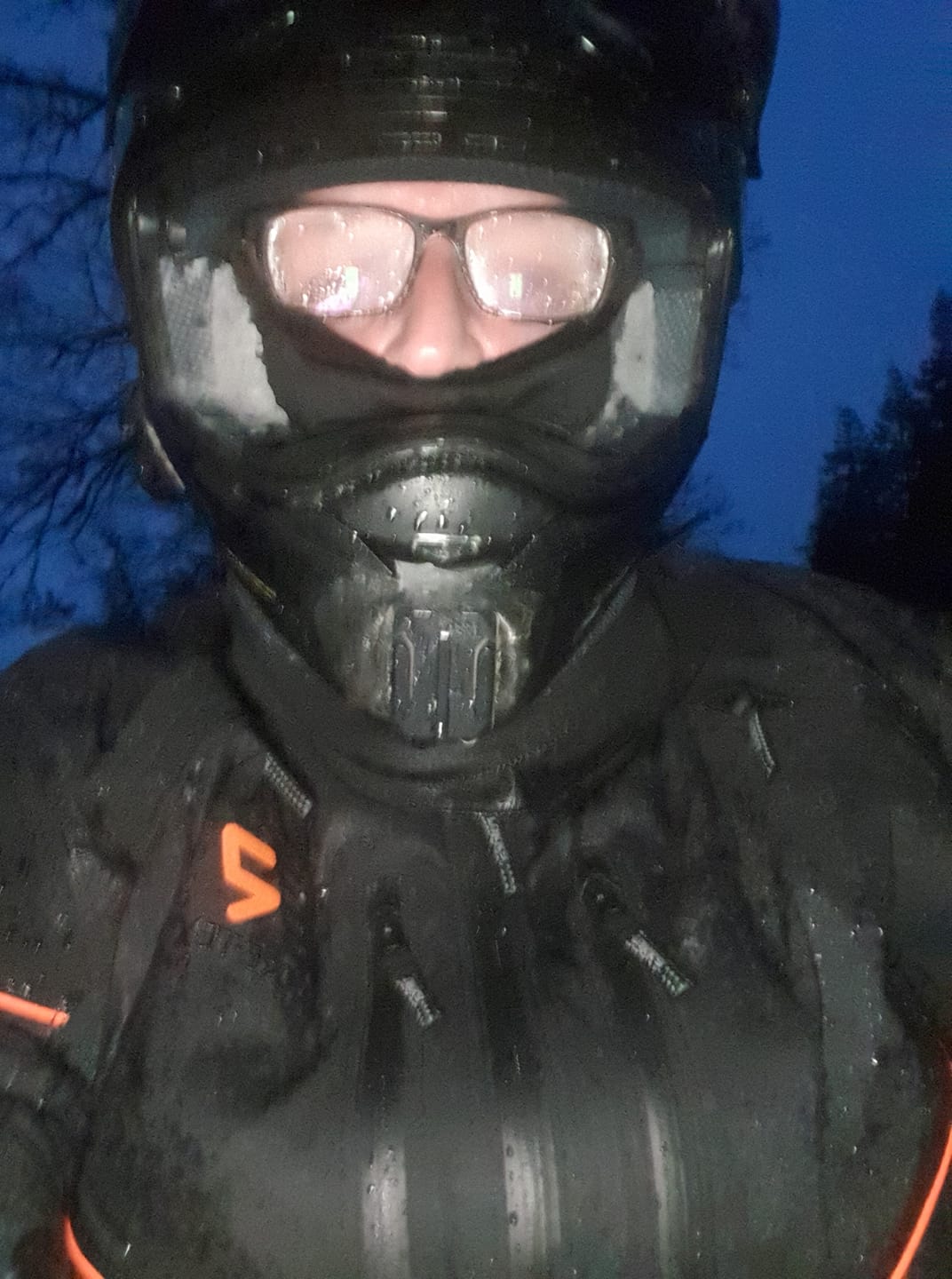 Before setting out to bike, what should you prepare for?
Riding in Scotland, you have to prepare for the weather and road conditions to change quickly. When I picked up my Tenere from Inverness I was caught in a blizzard for about 10 miles on the road close to Ullapool where the roads were completely white.
Weather forecasts can change rather quickly, especially on the coast. You can be riding along feeling the heat from the sun, then looking for cover from the hailstones. Pack waterproofs or invest in decent textiles.
What advice do you have for overtaking safely on rural roads?
Take your time and ensure you can make that overtake with ample space to pull back in before that next bend or corner, as you just don't know what's going to be coming towards you.
Road conditions can play a big part in the Highlands. From gravel to animals, the roads can literally be covered in anything.
We are not the only people on the road so be mindful of other bikers, drivers, cyclists, and walkers.
As an experienced rider, is there any other safety advice you would encourage others to adopt?  
Ride within your own limits, never try and keep up with anyone else.
Anticipate other road users may pull out, even if you think they have seen you.
Finally, expect the unexpected. Cheesy, yeah, but riding during tourist season you might find a motorhome stopped to take a photo causing traffic to be on the wrong side of the road as you come around the corner.
Our latest Live Fast Die Old film was filmed on the Isle of Skye. Watch it and read more about the route here.
Read Steven's blog on Scottish motorcycling routes here.