Some bikers might be feeling a little rusty after a break away from their bike. Fiona Robertson, Live Fast Die Old route ambassador and owner of The Green Welly Stop in Tyndrum, has shared some of her top tips for getting ready ahead of the summer season.
"At the start of the main riding season it can still be a bit chilly and that's not good for your concentration. I always make sure I wear cosy layers of clothing, then if I am too warm I can take a layer off.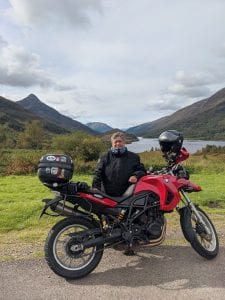 For those bikers that don't normally ride through the winter months, you need to remember your skill levels will not be the same as when your bike got tucked away for the winter. Go out with a trusted friend that will ride at a good, steady pace and agree on regular breaks to stretch, drink some water and have a rest. This is a great way to build up your riding stamina and for muscle memory to kick in.
With all the goings on with COVID-19, we haven't been getting the same opportunity to ride. No matter what standard of rider you believe yourself to be, I would always recommend the merits of having your riding assessed by a suitably qualified rider. Even better, develop your skills further and book some advanced lessons!"