In this blog, Scottish biker Les Cairns writes about completing our stunning coastal route and shares some of his top tips for enjoying the ride safely.
Why is the LFDO coastal road a great ride?
It's on great biking roads, it's doable in a day and it takes in superb and interesting stopping places and watering holes. Don't miss the trio of small islets of Shallachain just beyond Sallachan for great views of seals; the splendid beach opposite Resipole Caravan Park and the volunteer run shop on the right hand side at Glenuig Bay – get a coffee and put your pound in a tin! The Glenfinnan Monument is worthy of a visit, but the views of Ben Nevis from the end of the Caledonian Canal at Corpach Lighthouse are the best ever.
Why do you love motorcycling in Scotland?
Shouldn't really broadcast this, but often you can ride for dozens of miles and hardly see another vehicle – except other lucky bikers. Mostly the surfaces are sound, the roads follow the contours rather than cut through them, and the scenery everywhere is outstanding.
What are your top tips to enjoy the coastal route?
Take time to stop and smell the roses, and bring a camera. Watch out for folks on single-track roads who don't get that a motorbike is actually wider than a push bike – and therefore sometimes don't stop at a passing place, even when they get there first. Be careful on single-track roads as the tarmac is sometimes layered higher at the edges than the verge. There can sometimes be a drop of six inches.
Before setting out along the Ardnamurchan Loop, what should you prepare for?
Take your own picnic lunch if you propose to stop and relax between communities. Driving on single-track roads takes maximum concentration and can be tiring, and making sure you start off with a full tank of gas is essential. Midgie spray is an essential extra!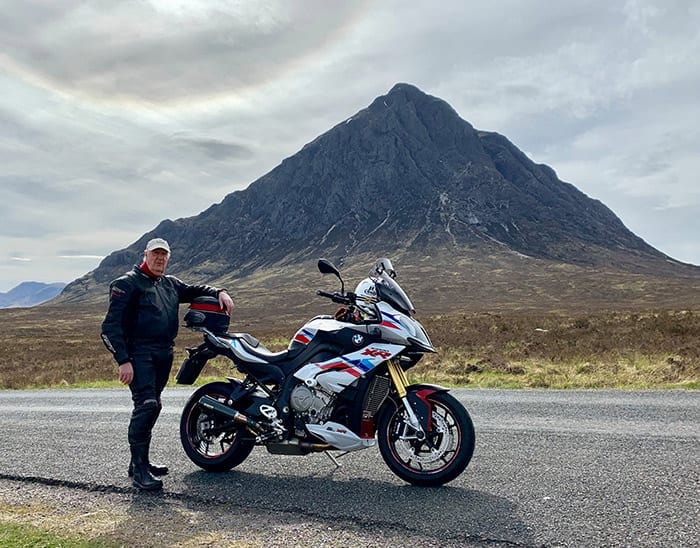 What advice do you have for approaching left or right-hand bends?
When approaching a bend, reduce speed more than usual as the roads are narrow and some motorists are anxious about being too close to the edge, so run wider than you normally would. On left-handers, watch out for cyclists, slow moving motor-homes and slow tourists! On right-handers, watch the steep sided kerbs.
Is there any other safety advice as an experienced rider you would encourage others to adopt?
Keep your lights on bright, use the horn to warn others of your approach and whilst it's always tempting to go fast on these perfect ribbons of tarmac, they are usually narrow, have plenty blind summits and are shared by tourists unfamiliar with these roads. Tourists are also often unaware of the protocol of giving way for oncoming vehicles – especially bikes!