We caught up with Life Fast, Die Old group ride ambassador Paul Crossan and his trusted companion, Motorbike Milly – our favourite dog on wheels! In his blog, Paul looks back at how Milly came to ride with him and how they have both helped each other.
I was diagnosed with multiple sclerosis around eight years ago and after numerous episodes affecting my mobility, moods and general well-being I was medically retired from work. After years of working and being around people it was very difficult to adapt to being on my own throughout the day, while my wife was at work and my son was at school.
I started to look around animal rescue centres to see if I could find a small companion to keep me company at home or when I was able to get out and about. At a pet rescue centre I was introduced to Milly – she had been removed from her previous home, had very severe anxiety issues and would need a lot of attention.
From the moment I first set eyes on her I knew Milly was the correct companion for me. Being retired, I had plenty of time to spend with her and support her anxieties – and she supported mine while I was at home all day by myself.
Milly is definitely my dog! At first, when I went out on the bike and Milly was in the house with my wife she would cry as soon as she heard the bike turn over, then pace up and down looking out the window until I returned.
This got me thinking – how could I take Milly with me? I bought a motorcycle tank bag online and left it out in the living room, letting Milly go in and out of it to make sure she was happy and comfortable sitting in the bag when it was zipped closed. I then attached the bag to the motorbike in the garden, and again Milly seemed content and relaxed sitting in it.
I started to take Milly on short journeys to begin with and she would happily look around and bark at other dogs and passers-by, just to let people know she was there. She has also fallen asleep in the bag! This is how I know she enjoys herself and feels completely safe and relaxed.
At first, Milly did not have a helmet. Her first motorbike accessories were specially designed dog goggles to protect and keep the wind from her eyes, and I made snoods from cut-up socks to protect her ears from the wind.
However, as any biker knows, getting hit with a stone chip on the chest or face is a painful experience and I didn't want Milly to go through that if I could help it. After researching, I discovered that there is no safety equipment for dogs that ride on motorcycles! I couldn't believe this – after all, there are thousands and thousands of people riding with their pets around the world.
I decided that I'd have to make something myself – it would need to protect her eyes, ears and face from stone chips while also being lightweight and comfortable enough to wear. I stared to work on the very first one, using a small football, but it wasn't as successful as I had expected. I then experimented with a few more. I tried making one from leather – that failed. I tried altering a large plastic bottle – another fail!
A cycle helmet from a doll worked for a short time but wasn't as good as I had hoped, although it did give me the idea to look for toy size helmets. I couldn't find anything suitable until I came across a plastic helmet-shaped piggy bank – that was it! It was the perfect size and weight for Milly. I ordered quite a few of them and made many alterations to convert it into the working full-face helmet that she wears today. Milly has been wearing it comfortably for the past two and a half years and I can honestly say it works perfectly.
I also made alterations to my carriers to suit Milly's comfort. I added foam to the front carrier along with a nice dog blanket. On colder days I put a hot water bottle under the blanket and when it is hotter I use the cooling pad. I have also added to the comfort on my back carrier by raising the inside so Milly can comfortably lie down, as well as making the space bigger for her head and using foam piping to ensure her neck or head are protected from the edges.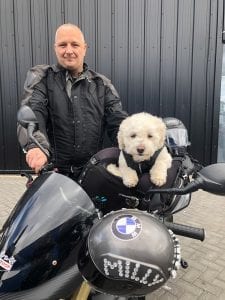 Travelling varies due to my health. Most days I make the journey to our local park by motorcycle and when I am in good health we travel far and wide. We are lucky to stay in Scotland. It's such a beautiful, scenic country and I get to travel all over it with my best friend.
Milly has become very well known in the Scottish biking community and draws a lot of attention everywhere we go. We are inseparable! She puts her full trust in me to love her and look after her, and when I've been at my lowest points in life she's been there by my side comforting me and helping me deal with my depression. I never thought I'd be in a position where loneliness could bring on such sadness and pain. I now understand first-hand the effects of mental health, and this is why I started visiting care homes and even a children's hospice with Milly to communicate with people and make them smile – even if it's just for that day. We now visit some of them regularly and we'll continue to do so. We love it. A smile is contagious and costs nothing.
Thanks to 56'N for taking an interest in our story and for encouraging me to record my adventures with Milly. I have already introduced a few of my biking friends to riding safely with their pets in the carriers I use, along with loads of social media followers. Hopefully we will see more people riding safely on the roads with their pets!
To keep up with Paul and Milly's many adventures, check out Motorbike Milly's YouTube channel and follow her on Facebook and Instagram.