Coastal motorcycle route ambassador Jayne Tollan guides us through this Breathtaking Road
Meet Jayne Tollan, our coastal road ambassador who has been exploring Scotland's breath-taking roads on two wheels for over 20 years. She's also completed her advanced motorcycle riding test and is now an IAM observer – nice work! Here's her thoughts on touring Scotland's coastal routes by motorcycle.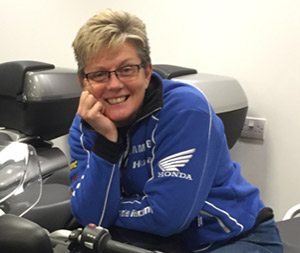 Jayne is part of the Curvy Riders motorcycle group, a national group that provides riders with great confidence and comradery. With hundreds of members in Scotland based over eight regions, Jayne is the group representative for the Clyde Valley region. One of her favourite routes to explore is our coastal road from Glenuig to Lochailort, which forms part of the stunning Ardnamurchan Loop.
Here's her top tips on how to make the most of that motorcycle route.
Why is the Ardnamurchan Loop coastal road such a great Scottish motorcycle ride?
The coastal road is an iconic road that leads to the most westerly point of mainland Scotland where you will find the Ardnamurchan lighthouse. With rugged coastline, white sandy beaches and stunning views over to the small isles, the road is filled with iconic scenery from start to finish. Classic Scottish motorbike touring stuff.
---
Why do you love motorcycling in Scotland?
Scotland has some of the best kept secrets when it comes to scenery and traffic-free roads, it has everything that any European road trip can offer. With its rugged coastline, epic scenery and friendly locals – there's nowhere else I'd prefer to explore on my bike.
---
What hotspots do you recommend along this Scottish coastal motorcycle route?
The coastal road is packed full of things to see, cracking food and places to stay. There's a wide variety of accommodation available from campsites and caravan parks through to B&Bs and luxury self-catering, so something to suit all tastes and budgets. I love to stop off in Glenuig, Roshven or Lochailort and explore what each village has to offer. The location of the route also means there are plenty of places to stop safely and take some stunning pictures of the coastline.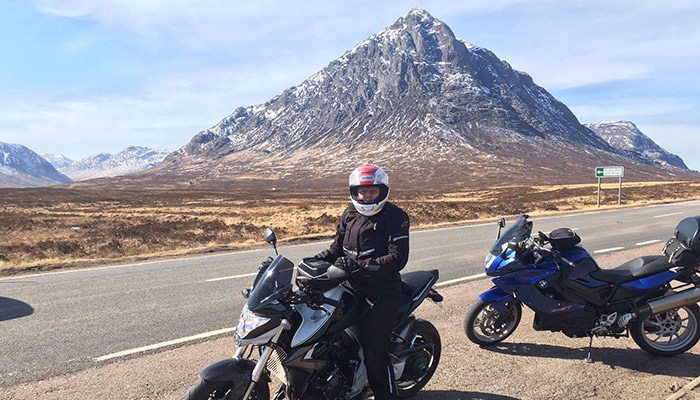 From a food and drink perspective, there's something for everyone to be found here too. From huge portions of pub grub to first class Scottish seafood, the coastal road has all bases covered. Many places to stop for a bite also enjoy fantastic views of the surrounding area which are an excellent complement to the tasty food on offer.
---
What are your top tips to enjoy touring the coastal motorcycle route?
Take your time, it's not a race. The scenery is memorable so make sure you soak it up.
---
Before setting out along the Ardnamurchan Loop, what should you prepare for?
Prepare for all types of weather, be cautious over the cattle grids and watch out for the kamikaze sheep, especially in early spring. Remember to look out for blind summits along the way and be prepared for tourists meandering about the countryside admiring the highland cattle.
---
What are your top tips on how to overtake safely?
Always look ahead and read the road. Make sure that the vehicle you are about to overtake is aware of you and it's clear to overtake. Make sure there is a safe gap ahead of the vehicle you are overtaking. Then pull out to prepare for the overtake and if the road is still clear, make progress and safely pull back in ahead of the slower vehicle.
---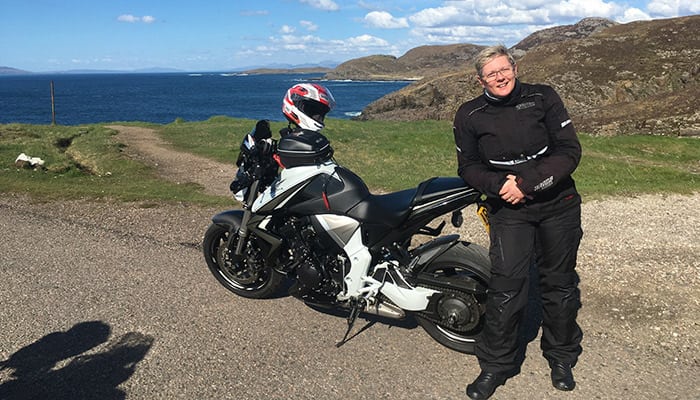 What advice do you have for approaching left or right-hand bends?
When approaching a left-hand bend, use what information you have acquired from your surroundings to assess the severity of the bend. Position yourself to the inside of the white line (if the road has markings and only if safe to do so) in order for you to see as far ahead around the corner as you can. Always be prepared to give up your position for safety at any point. Always keep your vision up and remember to look where you want to go – don't focus only on the bend. Select the right speed and gear for the corner and when you're able to see the corner opening up, accelerate and prepare yourself for the next one. When approaching a right corner, the same formula applies (information, position, speed, gear, acceleration), only this time position yourself to the nearside of the road – again, only if safe enough to do so – and repeat.
---
Is there any other safety advice as an experienced rider you would encourage others to adopt?
Always ride within your capabilities and at a speed that's appropriate for the road, weather and traffic conditions. I'd recommend all bikers to do some form of advanced rider training, whether it be with IAM, RoSPA or Enhanced Rider. Make use of their free taster sessions, observed rides and any other free courses available – it will be the best thing you will ever do for yourself.
You can get expert tips free, here
I look forward to seeing you out there enjoying our fabulous Scottish motorcycling routes.
With its rugged coastline, epic scenery and friendly locals – there's nowhere else I'd prefer to explore on my bike.