Meet Fiona Robertson - avid biker, owner of The Green Welly Stop in Tyndrum, and our brand new ambassador for this motorcycle route in Scotland!
In her blog, Fiona writes about the scenic route from Tyndrum to Appin, featured in our new film Road to the Isles and one of Fiona's favourites, and shares her tips on how to enjoy it safely.
Fiona Robertson blog : Tyndrum to Appin
One of my favourite routes is from Tyndrum to Appin via Connel Bridge. Before heading out, I make sure my trusty steed is roadworthy and fuelled up. There are fuel stops on the way, however, if I stop it's for a coffee or a view, not a petrol station!
Enjoy this motorcycle route, but be patient
This is a lovely route, taking in some great scenery and incorporating some great bends. Leaving Tyndrum, the road to Dalmally is lots of fun. There are some good straight sections at the beginning, where some overtaking opportunities may arise. The temptation is to open up the throttle, however, be aware this is a hot spot and if you get too carried away you might get into trouble! It's well worth being patient. When you see the double white lines at the start of the bends, do be careful as there are houses there with young kids. Also, at the beginning and end of the main motorcycling season, deer may be down on the roadside although through the next section, the road is protected by deer fences on one side and the railway line on the other.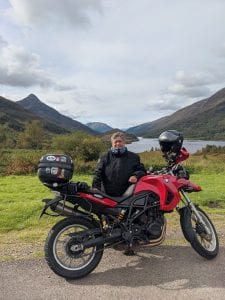 Let the fun begin. The road surface is superb and the corners are excellent fun. It's important to scan ahead as the view of oncoming vehicles can be restricted. There are some very subtle hidden dips and zones of invisibility which can catch you out. Where there's a crest of a hill in front of you, plan ahead, err on the side of caution, and adopt a safe position. Lower your speed, especially when you don't know what's on the other side of that crest. A 50:50 position on your side of the road is good practice, however, you may have to move further over to the nearside if the approaching vehicle is large. This road is busy in the summer months, so expect campervans and HGVs. When you start heading down Strone Hill, Cruachan comes into sight and you get a lovely view through the glen. More twisties and then some good overtaking opportunities before reaching Dalmally.
After Dalmally, take care of surrounding traffic that may turn at the last minute on to the Inverary road. Ride with caution and to be seen. Cars turning in or out of the junction may not see you or be able to anticipate your speed, so changing your position on the road slightly may help you to be noticed.
Cornering matters on this motorcycle route
As you head through Loch Awe and on towards the Pass of Brander, the sweeping bends alongside Cruachan are lots of fun. Here, it's important to make use of your side of the road to get the best view of what's to come. Cornering safely and well is something not all riders are able to do, and there is a systematic way to do this.
Using our powers of observation on a bike are so important. Take, use and give information at all times and, it's not just about what's in front of you, constantly scanning ahead and also using your mirrors regularly will feed your brain all sorts of information. Choose your position based on what you can see, what you can't see, and what you can reasonably expect to happen.
When you're approaching a right-hand bend, position yourself more towards the nearside; this will give you maximum line of sight and a view of the limit point ahead. Your choice of speed is crucial, thinking of cornering as slow-in-fast-out means your will be able to settle your bike so it's balanced in the event of anything unfolding in front of you (or behind). Once you have the view through the bend, and it's safe to open the throttle, you can adjust your position, remembering to take into account any approaching vehicles. Depending upon the size of those vehicles, it may be your best option to stay on the nearside and then move towards the centre when it's safe to do so. There will be HGVs, campervans and coaches to consider, so always give them enough room. One of the biggest benefits in adopting a nearside position is not only that it gives you a greater view, it also means approaching traffic will see you sooner.
Setting up for a left hand-bend, you need to consider how sharp the bend is. On the approach, position towards the centre line – as long as it is safe to do so. This will give you the best view of the limit point. Take into consideration any oncoming traffic, and position your machine accordingly. The larger the vehicle, the larger the safety bubble you should allow.
Where you are facing a sharp corner, and have been given clues such as chevrons, hazard lines, double white lines or there is a general lack of vision around the bend, adopt a more defensive position. Move in from the centre line and, if you are surprised by an oncoming vehicle, you are prepared and already in a safe position. Where a larger vehicle approaches, get out the way with a wee bit of positive steering.
Other obstacles on this phenomenal motorcycle route
The Pass of Brander is particularly good for analysing the limit point of vision (vanishing point). What's happening ahead? Is the limit point moving towards you? If so, back off on the throttle until you see the limit point moving away. You know you are at the right speed for the bend when the limit point starts to move away from you quickly, as opposed to slowly.
Cruachan Visitor Centre is on the left and has a bit of a hidden entrance. Traffic may not see you clearly, especially as you will be coming over the crest of a hill. Also, cars park alongside the road to access Cruachan itself, so be wary of foot traffic.
Through Taynuilt and onwards to Connel. There are some overtaking chances here, however, keep an eye out for bollards at drive entrances. These can be screened by foliage so take care.
Live fast, die old – remember the two second rule
We ride bikes that have amazing acceleration. Whilst this is great, overtaking needs to be planned. A following distance of the '2 second rule' is stated in the Highway Code. This does change depending on the conditions of course and should be doubled in the rain.
Following a large vehicle, good practice is to be far enough back to get a better view and to be seen. Can you see the mirrors of an HGV? If not, you are probably too close. Just popping out without a safe plan can get you into all sorts of trouble. Allowing that extra space gives you a bit of thinking time and, if it's safe, move to the offside of the carriageway, have a look; if it's clear, the overtake is on. If the overtake is not on, then you can pop back where you were before. Constant mirror observations and considering a shoulder check is good practice before committing to any manoeuvre. Where the line of sight is good, you may even be able to consider a momentum overtake. This is where you start your manoeuvre early, without having to close the 2 second gap. Always have a return gap planned. Either going back into the original gap, or, where you are going to place yourself after you have passed the vehicle. Planned overtakes are lovely to watch, and done well, look effortless. Plan to keep yourself and other road users safe. Remember, just because your riding buddy has carried out an overtake, doesn't mean it's safe for you to follow. Ride for yourself, be safe and be an ambassador for motorcycling!
In Connel, take a left turn to the A828. This is a lovely road, taking you through Benderloch and onwards through Barcaldine and Creagan. Be aware in this area there will be a lot of walkers and cyclists. Some of the latter don't use the cycle paths so take great care. Those that do use the cycle paths sometimes have to cross the main road, so look out for the road signs and bollards showing the crossings.
There are some magnificent bends and some are quite challenging, so remember your top tips for cornering and put them into practice. Choose your speed, taking into account being able to stop in the distance you can see to be clear on your side of the road. After Appin, there is a very, very sharp right-hand bend that goes up the hill. Use caution, and the markings that are on the corner to help your line, it's a belter and riding this road in the other direction is very easy to mess up. You will get no view at all of any oncoming traffic, so put yourself in a position of safety no matter what direction you are going in!
As you crest the hill after The View Café and you will see the corners in front of you. Here, you will find experimental road markings, aimed at motorcyclists. In advance of the double bends, there is a blue information sign, showing you the best line on the road for the corners ahead. Place your motorcycle between the road markings (when it's safe to do so) and you will be positioned well to deal with the double apex bends. The white markings are a super-sticky paint, which is more grippy  than the normal white road paint.
Those who have taken further training on their motorbikes will instinctively ride these lines and, if you aren't familiar with the concept, take time to think about the safer position the markings put you in. There are others on the A84 south of Crianlarich and more through Glencoe for you to consider. By the time you have ridden them, hopefully in time, accident statistics in these areas will be reduced. We all love to have fun on our motorbikes, let's be safe whilst we are doing it!
Keep going to Ballachulish and return to Tyndrum through the magnificent Glencoe to complete your loop!
A motorcycle route to escape the day-to-day
Riding a motorcycle anywhere in the world is amazing. In Scotland though, we get the most majestic views on some pretty good roads. I ride all year round (I draw the line at snow and ice though) and know we can be treated some days to all sorts of weather. For me that's what makes Scotland so special.
The freedom is just great. With a stressful job, I find I switch off the stuff going on in my head and switch my brain to riding mode. I do find the Appin route enjoyable and ride it regularly. It's always excellent therapy and I always come home with a big smile on my face, no matter what the weather.
There's the friendliness of bikers too. We'll pretty much talk to anyone… or is that just me?! What's great is people are from all walks of life, and having a motorcycle brings an amazing mix of characters together with a common passion.
Enjoy the ride!